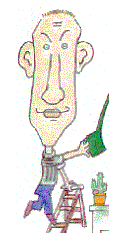 Listen to Phil's opening sound

Phil's beee-u-ti-ful outlook on life
"Phil E. Sha"
Creative Director. Responsible for web design, logo's, and corporate literature.
Also orders the flavored coffee for the office.
Quick Profile:
Lives down by Christoper Street. Recently moved to NYC from Key West
Is 30 years old, and keeps peace in the office. Everyone comes to him with their problems
Single, but we think he has someone in his life. Very secretive about his personal life
His hair is prematurely receding, so he keeps a buzz cut
Keeps all of our office plants healthy and snipped perfectly
Adores his mother
Loves to travel, see broadway shows, and is a Judy Garland fan
Favorite saying is,"Dont' be such a Mary"
"Oh, hi there. I'm Phil. It is such a pleasure to have you join me! Would you like some tea? Coffee? An Altoid? I quess you would say I am a people pleaser. I love a harmonious environment, and love it when all my co-workers blend so nicely. It's divine!
I started with vegout.com well over two years ago. Such memories-memories like the Jasmine in my mind. You might say I used to be an entertainer down in Key West, until the nightclub burned down. WELL, I was just beside myself. I said to myself, Mary-I mean, Phil, you have got to get yourself together, and make something of yourself! So, I got my steamer trunk, packed my Coogi's and Jhane Barnes, and headed for the big ole Apple. When I got to the Big Apple, I said Mary-I mean, Phil, this is one incredible stage! And the shopping is to die for--I got this Abboud at Century 21 for fifty percent off! I answered a Help Wanted ad in the NY Times for vegout.com. They were looking for someone who is a people person, who is a team-player, and can learn quick. I said,"I'm your man!"
When I interviewed, I noticed that the office was kinda stark. I said, you know, if I am hired, I can really brighten this place up and make it exciting and beeee-u-tee-ful. Well I got the job! My mother was just sooo happy for me! I just couldn't wait to transform this place! Mauve and grey--gives it that business yet cozy feeling. I also needed to get some greenery in this place!
Do you like my orchids? I got a really good deal on this Phalaenopsis from Kauai. It is a marrrrvelous specimen. You just have to be careful that you gingerly mist--oh, and watch out for "scale". I like cacti too. Look how long this one is Well, I have to run...It's Yugo's birthday tomorrow, and I still have to decorate his cake... and run to the "Y" to, uh, lift weights... Bye-bye!
Back
---
Email: info@vegout.com © copyright 2000 vegout.com