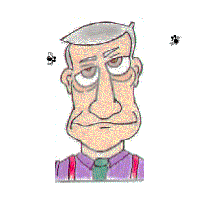 Listen to Ken's opening sound

Ken's "yes-sir" spirit
"Ken Doit"
VP, vegout.com. Responsible for vegout.com's success. Has to oversee the office, interface
with the Executive Management, and provide strategies for the company.
Quick Profile:
48 years old, married with 2 children, Gracie and Banjo
Commutes from Norwalk, CT into NYC on the Metro-North
Total imbalance in his life. Tries to balance his whining wife,Cindy, and the demands of the job
Vegetates by reading the NY Times, planning vacations that never materialize, and listening to his Dolby 5.1 surround sound system
Can't eat spicy foods--they upset his stomach
Favorite saying is, "whatever"
Yeah, I run the office. Dysfunctional crew I have, don't I? Dee, who make Leona Helmsley look sweet. Yugo, who invented the word "addict". Phil is nice, but if I hear one more time how he has to "gingerly mist" his plants, I am gonna smash a pot over his head. And Krystal--if she is so much into that psychic stuff, why can't she give our office good Karma? I started with vegout.com a little over four years ago. I left my job at IBM to come to this place-- they waltzed with me during the pre-IPO period. They said I would get 20,000 shares in stock options. And that I would be rich if I just do my job.

Well, the IPO went through, and now I report to a Board of Directors, a CEO, and the shareholders. Unbeknownst to me, my mother bought a ton of shares in her hopes of getting rich. Now, the shares are worth a , and since my mother was a major share-holder, she now sits on the board. I have one upset relative, who watches every move I make.

I can't really leave vegout.com anyway, nor can they fire me. I have a 6 year contract with them, and if I quit, my mother will make my life hell. And if I am fired, they have to pay me 3 years severance. It sounds like a good "marriage", doesn't it?
All I know is, I have learned to say,"Yes Sir", "I CAN do that Ma',m","Oh, yes that sounds like a plan!","I absolutely agree with you one hundred and ten percent!".

Yeah, I'm a "yes" man. It works.
It is very stressful here, though. I feel like they want me to do more and more work, , and I feel like I am going around in circles ... .
I do have some kewl things to help me out with the stress. I have a desktop waterfall, a slinky, and one of those click-clack things.
I just want to be a child again...
I just need to veg out...
Back
---
Email: info@vegout.com © copyright 2000 vegout.com