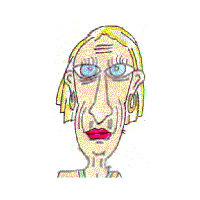 Listen to Dees opening sound

Another beautiful blurb from Dee
"Dee Kroch"
"The administrator from hell"
Responsible for answering phones, paying bills, filing, and office gossip.
Quick Profile:
53 years old, although she says she is 44
Has Lived in NYC all her life. She currently lives at 5th and 62nd.
Has had 3 husbands, all short-term. First husband killed himself, second had a nervous breakdown, and third had a massive heart
She is loaded--lot's of money, yet she works here, to share herself with others
Likes to read Gamour Magazine (on company time), and steals the perfume samples in Macy's
Keeps part of her life in the locked filing cabinet. Won't tell us what's in it
Her favorite saying is,"Bite Me"
"What the hell do you want? My name? It's Dee. Dee Kroch. And if you make one comment about my name, I will shove this stapler up your...uh, ohh, sorry. I get snappy. I am going through that change where a woman has to be the martyr for mankind. Men--they are all the same. They're all dogs. It's just what kind of dog do you want. I like the "greyhound" type of man. I love it when I scream at them, and then see them put their tails between their legs and run off emasculated. HA HA! Just a minute...let me cool myself down...
Well anyway, I've been with vegout.com for four years now. And not a penny raise--that God..uh, ohh, sorry. I am the office administrator, and I take care of the mail, answer the phone if I am close to it, and spawn office gossip. I'm not good at that Microsoft Word Stuff--I have Carpel Tunnel Syndrome-- Between that and my age, my boss can't touch me! Heh heh heh. You know, I should be the boss of this office. I am sick of men dominating everything. My boss made ME file yesterday. I broke a nail, that Son of a..uh, ohh..excuse me.
You might think my skin looks like a twice baked potato. WELL, in my youth, I was one hot tamale. Men would flock from far and near to come "visit" me, and they would give me flowers and candy and tell me they love me.
Just a second...I am getting a flash again....
Anyhow, I gotta go see what time it is...gotta get the hell out of here...".
Back
---
Email: info@vegout.com © copyright 2000 vegout.com